Click to Expand
What is Food Safe Coating?
In the food processing industry, properly applied Teflon™ and other fluoropolymer coatings such as Xylan(r) and Halar(r) can maximize product quality and productivity. The non-stick coating ensures maximum food product release which means less machine downtime to clear sticks/jams and fewer defective products and cross-contamination opportunities.
The Role of Protective Coatings in the Food Industry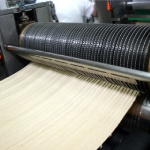 In automated food processing applications, the end product is only as good as the equipment that processed it. Therefore, the importance of protective coatings on industrial food processing equipment cannot be overstated. Having high-quality, properly applied protective coatings on all equipment that comes into direct contact with food products helps maximize productivity and minimize downtime. Non-stick, food-safe coatings for metal are vital for many food processing components, including molds, mixing vessels, hoppers, chutes, plungers, rollers, heat sealing equipment, conveyor belts, and more.
It is widely known in the food processing industry that optimal equipment performance is directly correlated to having the optimal non-stick coating. The viability of your processing facility is also one of the most critical criteria in managing high-quality food production. Acids and caustics are used to clean and maintain many industrial structures, resulting in corrosion, and even mold growth throughout the complex. All of these factors can jeopardize your entire business. Applying the right protective coating can protect your equipment from these exposures.
What Are the Benefits of Food Safe Coating?
Industry owners must meet food and beverage standards, and employees should have a safe and clean environment in which to work. Your facility and machinery can become worn out due to high production outputs and constant activity, lowering product and operational standards. Maintaining your facility and maximizing production can be significantly improved with specialty coatings and paints.
Other benefits include: 
Compliance:

If you're in the food industry, you must comply with regulations from federal and local health codes. Food-safe coating systems are designed to help your business meet those regulations. They do not guarantee compliance, but they can make it much easier for you to pass inspections, saving time and money in the long run.
Strength and Durability:

Your food processing equipment needs to be tough enough to withstand harsh conditions. A good food-safe coating will protect your equipment against abrasion, corrosion, chemical exposure, and temperature fluctuations without cracking or peeling off. Your machines will last longer, and you won't need to replace them as often, which, in the long run, saves you money.
Sanitation:

Installing FDA food contact compliant coatings in restaurants and food processing facilities can save on costs and increase efficiency and the overall health of your business. Daily cleaning protocols involving solvents, alkaline cleaners, and sanitizers can continue without damaging the material or requiring more time spent cleaning.

Thermal Shock Resistance:

Thermal shock resistance is the ability of a material to withstand heat and cold changes without cracking or becoming brittle. Switching between hot and cold temperatures can lead to cracking and peeling of surfaces. It happens a lot with standard food-safe coating materials because many of them cannot withstand exposure to alternating cycles. Food safe powder coating or any other types with thermal shock resistance ensures that food processing equipment can withstand hot water and steam cleaning.
Types of Food Safe Coatings
There are several different types of protective coatings for the food processing industry:
Powder Coatings:

Polyurethane powder coatings provide excellent abrasion resistance and adhesion to the substrate. Polyurethanes also offer chemical resistance, flexibility, durability, and impact protection. They are frequently used as topcoats over epoxies, adding color without sacrificing performance.  Food-safe epoxy coatings provide a durable and decorative coating that is incredibly strong and resistant to moisture, abrasion, and chemicals. They can also withstand both extreme heat and cold.

Fluoropolymer Coatings:

This type of coating is commonly known as Teflontm, Xylan(r), and Halar(r). These coatings are FDA food contact compliant. Fluoropolymer coatings are the best choice when it comes to non-stick cookware

as they don't require release agents and can be used repeatedly without a reduction in performance. These coatings have several benefits, including extreme temperature resistance and durability. When you include fluoropolymer coatings in your cookware, they will not release harmful toxins or chemicals into your food during cooking.
Food Safe Coating Applications
At Plas-Tech Coatings, non-stick, food-safe coatings are designed to improve safety and productivity in food processing environments. Our non-stick coatings can be applied to:
Dough handling equipment (chutes, rounders, mixers, etc.)

Food prep shelving 

Commercial food processing equipment (fryers, POS baking/cooking equipment, slicers, etc.)

Industrial food processing equipment

Conveyor Belts

Industrial Bakeware

Pipes, tanks, and vessels needing corrosion protection
Reliable Food-Safe Coatings From Plas-Tech
The market for food-safe coatings is growing as more and more new sectors use coating technologies in their products. The need for these coatings is driven by environmental safety concerns and the desire to innovate in the food industry. Plas-Tech Coatings has been a leader in the formulation?? and application of specialty coatings for over 40 years. Our team of experts will work with you to determine the best food-safe coating for your needs. Contact us today for a quote.