A powder coating can be either a base or a finish coat that cures into a solid film and offers protection to the coated surface beneath. The composition of these coatings includes the powder, or ground-up pigment particles, and a polymer resin, and the chemical properties of powder coatings change when they undergo heat exposure. There are several kinds of powder coatings available, each with its own unique strengths for various applications. 
Types of Powder Coatings
Durable powder coatings safeguard a variety of substrates against anything from general wear to heat and chemical exposure, and they are available in two main types.
Thermoset Powder Coatings
Thermoset powder coatings can withstand high temperatures and they also tend to have greater hardness than thermoplastic coating cures. They achieve this through cross-linking, a chemical reaction that occurs between two or more elements and modifies the coating's physical properties. Examples of thermoset powder coatings include:
Polyester.

Versatile polyester powder coatings are ideal for outdoor applications, holding up well on outdoor furniture, vehicle components, and external building surfaces. These coatings are also available in a variety of color options.
Epoxy-polyester hybrid.

Epoxy-polyester hybrids soften epoxy coatings, making them less prone to cracking and allowing them to weather better with less chalking.
Epoxy.

These rugged powder coatings are beneficial as electrical insulators and have better chemical resistance than polyesters. However, they are negatively impacted by ultraviolet (UV) light and can become brittle and chalky.
Thermoplastic Powder Coatings
Click to Expand
While thermoset coatings are better for high-heat applications as thermoplastic powder coatings can melt in such environments, thermoplastic coatings are well suited for offering resistance to general abrasion as well as chemicals. Synthetic materials from plants make up the composition of thermoplastic powder coatings. Like thermoset varieties, thermoplastic powder coatings undergo chemical processes to set. Two of the thermoplastic coating options are:
Nylon.

This impact-resistant, durable coating is perfect for moving components like conveyor belts and gears because the friction coefficient of nylon is low. Also, nylon is composed of renewable materials.

Polyolefin.

Abrasion and chemical resistance are excellent in polyolefin powder coatings. They stick well to various materials and create a smooth surface finish.
Why Use Powder Coatings?
A diverse set of industries utilize powder coatings for equipment and products, including:
Metal components.

Powder coating is most commonly used to give metal objects an exterior surface finish to protect against degradation.
Agricultural machinery.

Powder coatings shield rugged farm equipment like tractors from moisture, heat, UV light, and more.

Automotive parts.

Powder coating is highly applicable for vehicle components, particularly high-touch surfaces like door handles or internal and external parts like bumpers and brake components that must withstand varied environmental conditions and stress.

Chemical equipment.

In applications requiring chemical exposure, powder coatings function as corrosion protection for the outside of equipment like tanks, mixers, and valves, and internal protection from the chemical itself.

Construction.

Thanks to the range of different types of powder coating finishes and colors available, powder coatings are increasingly appealing as finish coats for outdoor items like doors, windows, and even structural facades for a protective surface that won't crack like paint.

Household appliances.

With optimal thermal resistance, powder coating has the dual advantage of being visually appealing while safeguarding against corrosion and wear on appliances like ovens and freezer panels with varying temperature cycles.
Powder Coatings From Plas-Tech Coatings, Inc.
Plas-Tech provides the following powder coating options:
Epoxy

Epoxy-polyester hybrid

Polyester and tri glycidyl isocyanurate (TGIC) polyester

Nylon II, or polyamide

Polyolefins 

Polyvinylidene fluoride (PVDF)

Urethanes

Halar® ethylene chlorotrifluoroethylene copolymer (ECTFE)

Fluoropolymers 

Teflon™ fluorinated ethylene propylene (FEP)

Teflon™ perfluoroalkoxy alkanes (PFA)

Tefzel® ethylene-tetrafluoroethylene (ETFE)
From the suburbs of Philadelphia, Plas-Tech operates two coating facilities in West Chester, Pennsylvania. Our locations are well equipped with cutting-edge technology to best serve our customers, including:
More than a dozen curing ovens, from 2'x2'x2′ to 6'x8'x10′

Non-contact infrared thermometers

Profilometers

Gauges for eddy current and magnetic resonance thickness measurements

Suction and pressure blasters

Liquid and electrostatic liquid spray guns

Electrostatic powder guns

Spraybooths
There are a number of ways to tailor Plas-Tech's coating offerings to a specific application. Our powder coatings come in a broad spectrum of colors, including a complete RAL color line, and our team can also create custom color formulations, as needed. For finishes, we offer low and high gloss, matte, wrinkle, textured, and vein selections. We can also provide coatings that are approved by the National Sanitation Foundation (NSF), Food and Drug Administration (FDA), and Underwriters Laboratories (UL).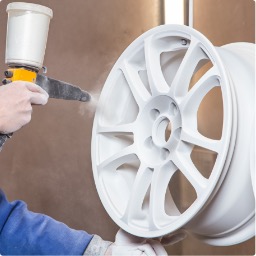 Partner With Plas-Tech
Since 1978, Plas-Tech has developed a reputation for precision processes, superior quality control and customer service, and fast turn times for jobs both large and small. Our knowledgeable staff can work with you to determine the right high-performance coating solution for your application. If you would like more information on how powder coatings from Plas-Tech can provide exceptional abrasion or corrosion protection with an attractive finish, request a quote today.